UK Legalisation Office
Need your documents processing at a legalisation office for use overseas? The process can be complicated, especially if you need them completing quickly, as there's several pitfalls you could encounter which could result in rejection, meaning you'll be delayed and maybe even out of pocket. That's where we come in: we're here to handle all of your legalisation processes for you, wherever you're coming from and going to.
Our head office in West Yorkshire deals with our Standard and Express service speed options, whilst our London Hub handles all Urgent same-day orders. We drop documents at the Foreign, Commonwealth and Development Office (FCDO), which was formerly known as the FCO, for Apostilles on a daily basis, as well as other Embassies as and when required.
What is legalisation?
If you have documents issued in one country and need to use them in another, you'll need to make them legally recognised by putting them through a series of verification stages. This process can be known as legalisation, attestation or even authentication, but they're all essentially referring to the same concept. This process can require anywhere from a single stage, up to 6, dependant on many factors including:
the document type
where it was issued
when it was issued
where it's being presented
the reason for legalisation
the document language
How to legalise a document
The legalisation of a document can be split into 3 main stages: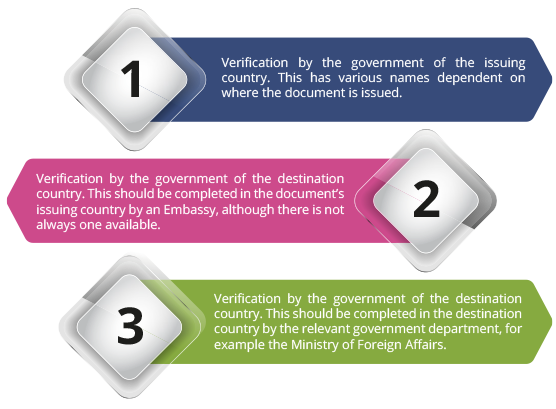 This is a simplified version of the process, and as straightforward as this seems, there can be many complications along the way. For example, some countries require the Apostille stage to be done within a certain timeframe; if your Apostille is older than their stated timeframe, it will be rejected. Certain documents require a solicitor certification or a Notarial cover sheet before they're processed, whereas others must be processed on the original.
There is not always an Embassy for the destination your require in the country of the document's issue, so what then? You'll need to identify which is the nearest Embassy able to handle documents for that country and organise getting your document there.
No one country's procedure is the same as another, so things can differ vastly from one situation to the next. If you are handling things yourself, it's imperative that you thoroughly investigate the steps you require based on your own personal circumstances. As you can see, things can get complicated quickly and it can be a stressful process, potentially leaving you delayed and out of pocket if you get things wrong.
But there is an easier way.
Getting Vital Consular to handle your document legalisation means there's no stress, no travelling around, no wasting time making mistakes and having to lose money starting again. We offer a 100% acceptance guarantee so there's no risk in using our service, and since we can handle documents from over 140 countries, it doesn't matter where your documents were issued or where you're using them: we can handle everything from start to finish.
REQUEST A CALLBACK
CHAT TO AN ADVISOR

Chat to an advisor to learn more about legalisation.
REQUEST A QUOTE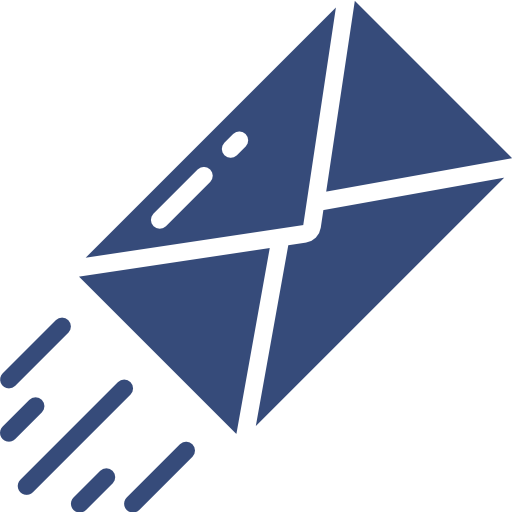 Request a quote for the legalisation of your documents.
What legalisation services do we offer in the UK?
Whether you need an Apostille-only service, or a full legalisation package, we can help. By having a legalisation office based in the heart of London, we can process your documents as quickly as possible and, in many cases, access services which aren't available to the general public. We attend Embassies and government offices daily, including the Foreign, Commonwealth and Development Office Legalisation.
We can also assist you in procedures which must be completed in-person, if you can't personally attend. For example, Chinese document legalisation can't be submitted via post, therefore you can either travel to London yourself and have this completed or you can nominate an agent such as Vital Consular to go and do this on your behalf.
Simple. Easy. Stress-free. So you can focus on what really matters - preparing for your move.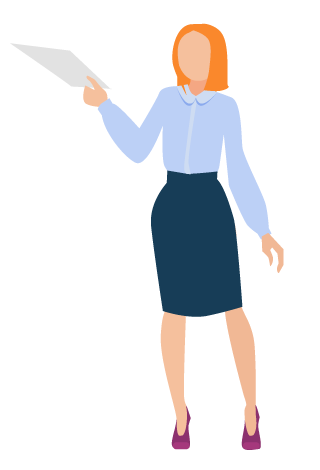 What if my document wasn't issued in the UK?
If you have a document that wasn't issued within the UK, it will need to be returned to the country of issue for processing. The legalisation will vary, sometimes dramatically, to that of a UK document as each country have their own set of guidelines and requirements...so things can get even more complicated!
First you need to figure out who handles the issuing of Apostilles in each country (this varies widely from Cour d'appel de Paris in France, Tribunale Amministrativo Regionale in Italy, to Udenrigsministeriet in Denmark) and then try to get your document there for them to complete. This is costly and based on slow bureaucratic processes (which can take an age!) with little to no updates. Then you might even need to get it to an Embassy in the country for the final step; calling overseas and trying to orchestrate the logistics of getting your paperwork where it needs to be can be a nightmare!
Not to worry, however, because we can help there too. There's no need to travel back to get things sorted, or repeatedly ship your documents back and forth, because we can process documents from over 140 countries - meaning that even if you have paperwork from several different places, you only need to deal with a single company.
How do I know which legalisation service I need?
It all depends on where you're using your document. If you have paperwork issued in a Hague Apostille Convention country and are using it in another country within the Convention, you'll just need an Apostille. If you're using it outside of the Convention, you'll need additional steps to be completed at the Embassy of that country. To see which are member states check out our list of Apostille countries here.
How do I get help with document legalisation?
The easiest way to get things done correctly, first time, is to use an experienced agent with knowledge of global legalisation. For assistance from our friendly team of industry specialists, you can get in touch in a few different ways. You can request a quotation here, give us a call on 0330 088 1142, request a call back below or use our LiveChat system.
We offer a complete acceptance guarantee, regular order updates to keep you in the loop as your document is processed, fully inclusive prices and the most payment options in the industry, including Klarna Pay in 3!
Where are our legalisation offices?
West Yorkshire
Vital Consular
Suite 35, Batley Business Park
Technology Drive
Batley
West Yorkshire
WF17 6ER
United Kingdom
Tel: +44 (0)330 088 1142
Standard and Express legalisation orders
Translations

London
Vital Consular
Tallis House
2 Tallis Street
Blackfriars
London
EC4Y 0AB
United KingdomTel: 0207 043 2421
Urgent legalisation orders
REQUEST A CALLBACK
CHAT TO AN ADVISOR

Chat to an advisor to learn more about legalisation.
REQUEST A QUOTE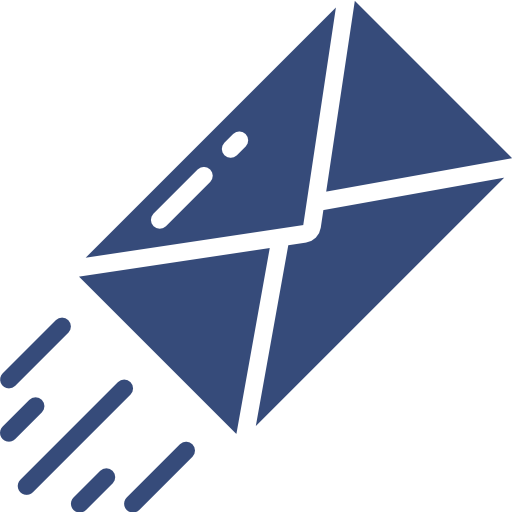 Request a quote for the legalisation of your documents.