Using UK Documents Overseas
12 September 2014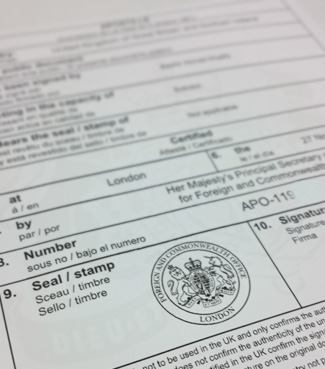 We're all used to having to hand over various official documents to companies and government departments in the UK, but what happens if you need to present it to someone overseas?
It's quite understandable that the Spanish government won't know whether your birth certificate has been officially issued - would you know whether a Spanish certificate was real?
There is a solution though. The Hague Convention was established in 1961 to simplify the process of using overseas documents outside of the country of issue.
In basic terms, the convention set up a system whereby each country has a single authority that is responsible for confirming whether either the seal or signature on a document issued within their country is correct. In the UK this role falls on the Foreign & Commonwealth Office (FCO).
Any country that is a signatory of the convention will accept a UK document as being genuine if it has been validated by the FCO. This is done by adding an Apostille to the document.
An Apostille is a small piece of paper that is glued to either the original document, or often a certified copy of the document, which is then signed and sealed by the FCO. For many countries this is all that is needed to validate the document to be used overseas. A complete list of the countries that will accept a document with an Apostille can be found here.
For any countries that are not members of the convention, a further step is usually required, which is to have the Apostilled document stamped by the representative embassy of that country within the UK. This process is often referred to as Legalisation (Legalization) or Attestation.
Regardless of the country you need to present your document to, Vital Legalisation can handle the entire process for you. For advice on your specific requirements, please contact us today.