Attesting documents from Jersey for the UAE
21 January 2015 | Admin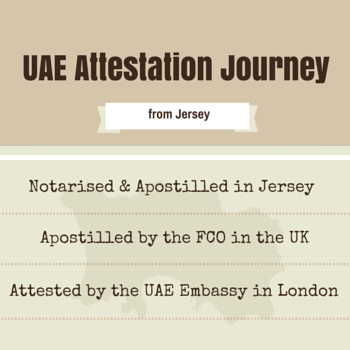 Jersey is classed as a British Crown Dependency overseas. As such, the UK is constitutionally responsible for its defence and external relationships. Because of this, the attestation and legalisation of documents to be used overseas needs to be started in Jersey and completed in the UK.
As an example, if a document issued in Jersey needs attestation for use in the UAE it must include the UK in the process. The attestation journey for a Jersey-issued document would therefore consist of:
Being notarised and apostilled in Jersey in order to prove their authenticity to the Foreign and Commonwealth Office (FCO) in the UK.
Having an Apostille Stamp attached by the FCO in the UK. This second Apostille Stamp will make the document ready for use in all overseas countries where the Hague Apostille Stamp is accepted.
Attesting in the UAE Embassy in London. This stage is a specific one required by the UAE authorities before a foreign document can be accepted for use by them.
Once the document has gone through these three processes, it will be ready for use in the UAE.
If your documents have been issued in Jersey and you need assistance with the UAE attestation process, contact our Attestation team.